Use 'Your Enquiries' to send emails, listen to calls and learn more about potential job leads.
The 'Your Enquiries' section of your profile acts as the hub for all enquiries that come through your account. You'll be able to find the contact information for enquiries, gain access to the full job description, send emails and listen to both inbound and outbound calls that have come through your account.

Here is the step by step on how to use it:
First login to your iSeekplant profile and scroll to the left where you can see 'Your Enquiries' on this side of the page.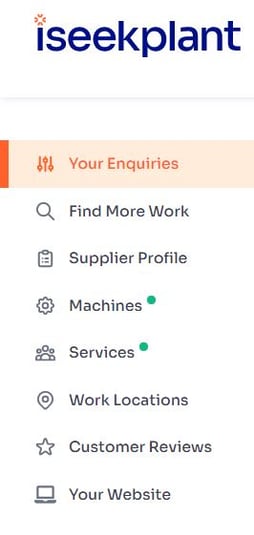 2. When going into 'Your Enquiries', at the top you can see the different message enquiries, call enquiries and the total enquiries you received.

3. Then when you scroll down, you can see your messages enquiries. You can click on "see more" for the full details.

To respond to the message there are a few different options, you can click on Display Phone, Email and Message to respond to the enquiry. There is now also the option to text with the number that is displayed, this way you can quickly shoot a text to start the conversation for the enquiry.

4. Under 'Your Enquiries' you can also see your calls that come through to the platform. The calls will be recorded on your platform for a few beneficial reasons. If a call comes through when you're on the site, in the truck or doesn't have a pen and paper, you'll be able to discuss the job knowing you'll be able to revisit the recording that night. All user admins are able to listen to calls on your account, so it's important to consider who will be a user admin and who will be a general user.

5. At the top of this page there is also a search bar you can use to narrow down and find a particular enquiry in your profile.